Pashley Manor Gardens
PASHLEY MANOR GARDENS
Pashley Manor Gardens, Ticehurst, East Sussex
20th April – 4th May 2023
Bloms Show Gardens at Pashley Manor are open from April until the end of October.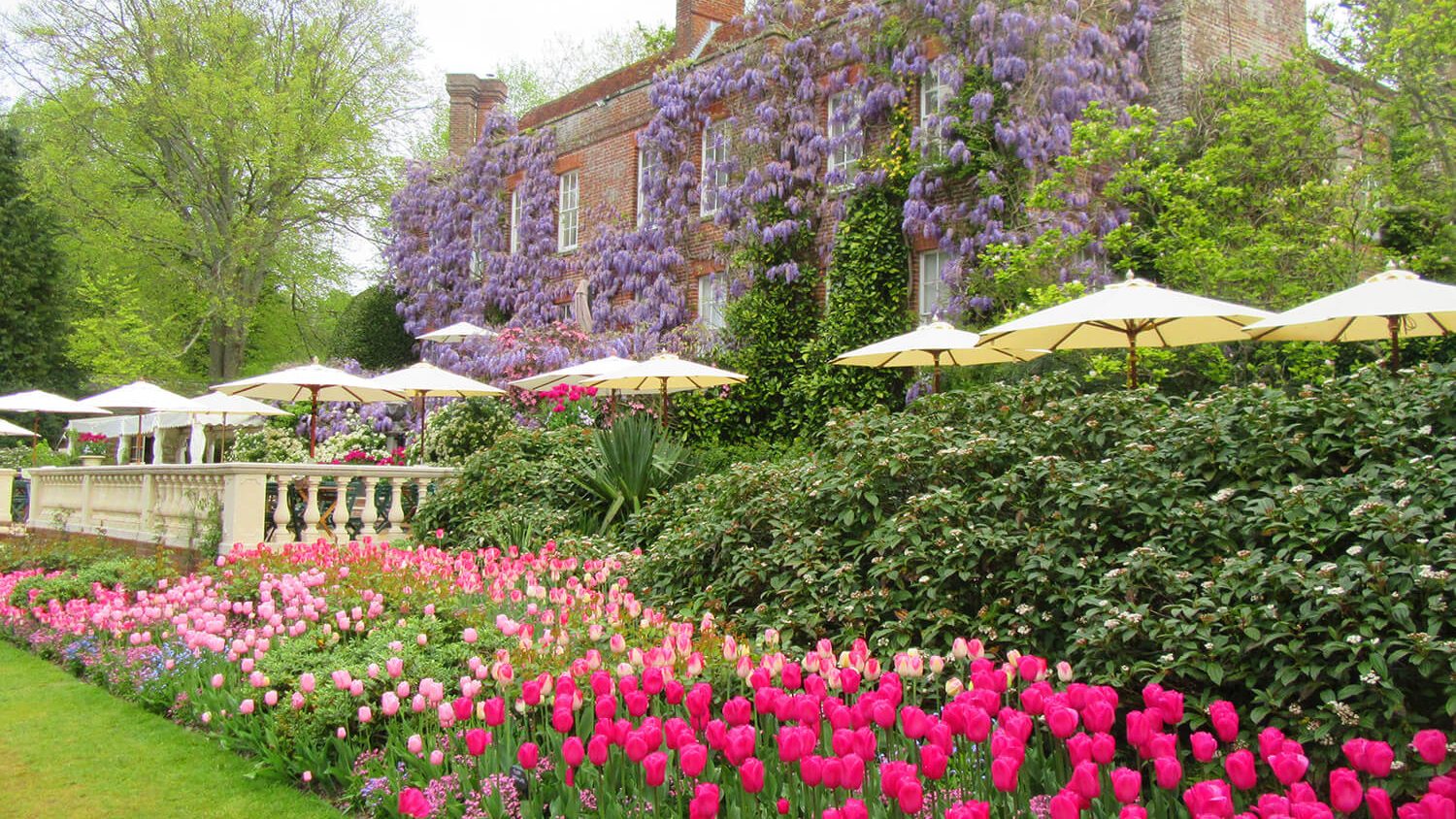 Pashley Manor Gardens is a beautiful garden located in the Sussex countryside in the United Kingdom. Each year, the garden plays host to the amazing Tulip Festival, where over 50,000 tulips from Bloms Bulbs are planted throughout the garden. This annual event is a major attraction for garden enthusiasts and nature lovers, and is a must-see destination for anyone visiting the area.
The Tulip Festival at Pashley Manor Gardens is a true celebration of spring, as the garden is transformed into a sea of colour and beauty. Over 50,000 tulips of all shapes, sizes, and colours are planted throughout the garden, creating a stunning display of flowers. Visitors can wander through the garden and marvel at the beauty of the tulips, which bloom in a range of shades including red, orange, yellow, white, pink, and purple.
During the Tulip Festival, visitors can also visit the marquee of cut flower tulips, which is attended by representatives of Bloms Bulbs. These experts are on hand to answer any questions you may have about the tulips and can help you place your order for bulbs to plant in your own garden. In addition to supplying the tulips for the Tulip Festival, Bloms Bulbs also supplies the gardens with about 2,000 dahlias every year for the Dahlia Days event in September.
The Dahlia Days event at Pashley Manor Gardens is a celebration of the beautiful dahlia flower. During the event, the garden is filled with a wide variety of dahlias, which come in a range of colours and shapes. Visitors can enjoy guided tours of the garden, talks and demonstrations by expert gardeners, and the opportunity to order dahlia tubers from Bloms Bulbs.
In addition to the tulips and dahlias, Pashley Manor Gardens is home to a wide variety of other plants and flowers, including roses and lilies. The garden also features a number of formal garden areas, including a rose garden, a water garden, and a formal parterre.
One of the unique features of Pashley Manor Gardens is the collection of rare and unusual plants that can be found throughout the garden. There are over 5,000 varieties of plants in the garden, many of which are rare or hard to find elsewhere. This makes Pashley Manor Gardens a paradise for plant enthusiasts and a great place to learn about different plant species.
In addition to the Tulip Festival and Dahlia Days, Pashley Manor Gardens also hosts a number of other events throughout the year, including gardening workshops, talks, and garden tours. The garden is also home to a tea room, a gift shop, and a plant nursery, where visitors can purchase plants and gardening supplies.
Overall, Pashley Manor Gardens is a must-see destination for anyone interested in gardens, plants, or nature. The annual Tulip Festival and Dahlia Days events are particularly special times to visit, as the garden is transformed into a breathtaking display of color and beauty. Whether you are an experienced gardener or simply enjoy being surrounded by beautiful plants and flowers, Pashley Manor Gardens is a wonderful place to spend an afternoon.
Tulip Festival 2023
Wednesday 19th April – Wednesday 3rd May
The garden is open from 10AM to 5PM
For more information visit:
Dahlia Days 2023
Wednesday 6th September – Saturday 16th September
The garden is open from 10AM to 5PM
For more information, visit: https://www.pashleymanorgardens.com/events/dahlia-
Constable Burton Hall Gardens
CONSTABLE BURTON HALL GARDENS
Constable Burton Hall, Leyburn, North Yorkshire, DL8 5LJ
Tulip Festival 2023


Saturday 29th April – Monday 1st May
The garden is open from 10am to 5pm

The tulip festival at Constable Burton Hall Gardens is an annual event that attracts visitors from around the area. Located in the beautiful North Yorkshire countryside, the Constable Burton Hall Gardens are home to a stunning collection of tulips that are in bloom each spring.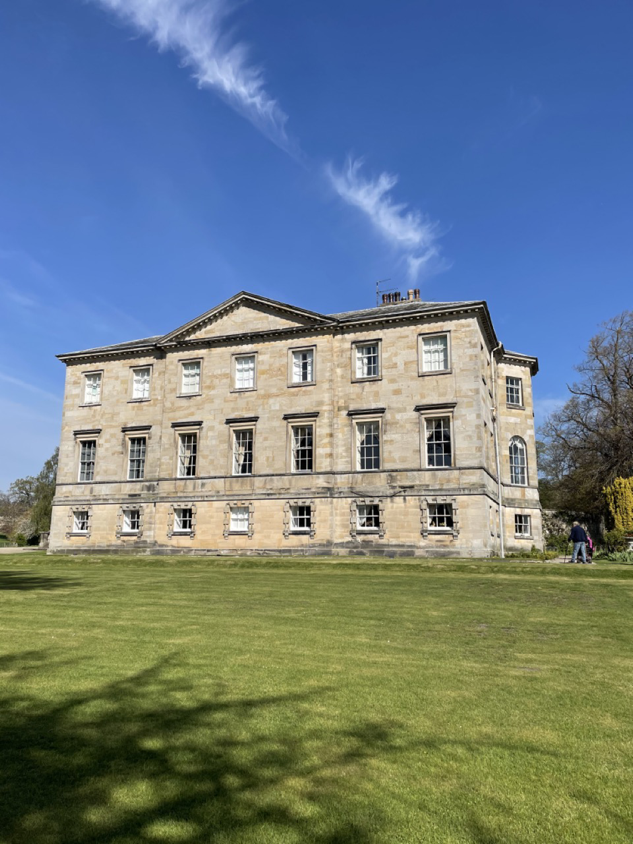 Over 6000 tulips can be admired in the grounds of Constable Burton Hall with a range of newly planted colour-themed and combination planting schemes in the borders to enjoy. We also look have a display of our Chelsea award-winning cut blooms in the Festival Lawn Marquees with a Bloms representative who will be on hand to provide advice and answer any questions.
Away from the tulips there are beautiful woodland walks and garden trails to discover including The Daffodil Field, a large collection which has naturalised over the years beneath the old oak trees and the tranquil Reflection Ponds which were reclaimed after historically being used as the water source for the Georgian Ice House.
A wide range of food is available in the Festival Lawn Marquee prepared daily by the estate chef, who has also created a selection of delicious festival picnic boxes for all tastes & ages. We advise pre-booking refreshments to avoid disappointment, and we can personally recommend the sausage rolls.
You can enjoy your food in our Festival Lawn Marquees or at one of the picnic areas located around the gardens.
https://www.instagram.com/constableburtonestate/
SHOW GARDEN BULBS
Growing Tulips
How to get the best results from your Tulips
How Tulips Grow
As British gardeners we appreciate that tulips are not native to our shores, or indeed even Holland, but rather Turkey and Asia Minor, with very different climatic and growing conditions than we experience. Tulips grow in drifts on mountain slopes and in valleys, experience cold winters, plenty of water in the spring and dry baked summers.
Tulip bulbs have to be of sufficient size to produce a flower. Everything the tulip needs to flower is contained within the bulb. The larger the bulb the larger the flower, this year's flower embryo and food stores are already contained within the bulb.
The bulbs do not start making roots until the arrival of cooler autumn temperatures. Well worked oxygenated soil is important to maximise root development which allows the tulip to take on sufficient water when it starts growing in the spring. Once the tulips emerge above ground, unless interrupted by a cold snap, they grow remarkably quickly taking in a tremendous amount of water.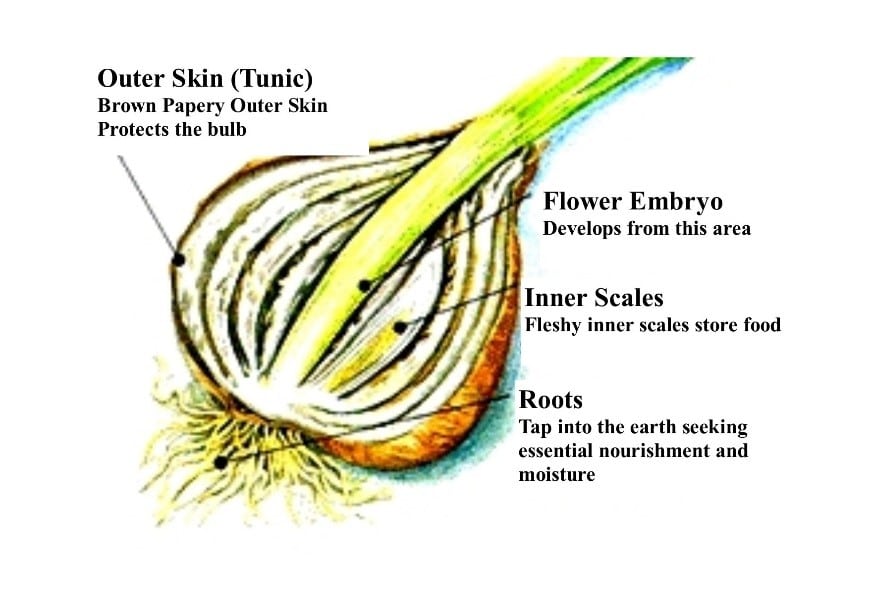 Tulips multiply by producing offsets around the basal (root) plate. The richer the soil the fewer offsets produced. Next year's bulb essentially grows in place of the parent bulb which is largely spent having used its resources producing this year's flower.
After flowering the new bulb continues to feed from the root system, taking in moisture and nutrients from the soil. The bulb also absorbs nutrients from the plant itself. The foliage is necessary for photosynthesis, to store energy in the new bulb as carbohydrate for the following year. Bulbs need a warm ambient temperature during July and August to ripen the flower embryo.
Tulip Planting
Tulips can be planted anytime from October onwards, all the way up until Christmas, weather permitting. Take the weeks beforehand to make sure the soil is well dug over in preparation for planting.
Do not plant your tulips too deep. Depending on your soil type plant 10-15cm (4-6inches) deep. If you garden on heavy soil no more than10cm (4inches) is recommended, for lighter well drained soils you can plant up to 15cm (6inches) deep.
Bulbs can be left in year on year, particularly if you have lighter well drained soil. Remember they do need a warm dry location during July and August.
Tulips in Containers
Use a soil-based compost such as John Innes No. 2. It is important to keep the pots evenly moist during both the autumn and spring without soaking them. Many general-purpose composts are difficult to keep evenly moist. Always use fresh compost.
Plant the bulbs with the flat side outwards, especially those around the perimeter, the first and largest leaf will grow from this side producing a more balanced effect. After planting water and keep the pots in a cool sheltered location, protected from mice and other predators. During a dry autumn water as necessary until the onset of winter. Note that pots tend to dry from the outside in, bear this in mind particularly in the spring. A lack of water will lead to stunted shrivelled plants. Move to the patio when the bulbs start to produce growth.
No feeding is required until after flowering, the bulbs come with their own food reserves. Excess nitrogen will lead to tall lanky plants with no benefit to the flower size.
What to do After Flowering
Once the tulip has finished flowering it is important to deadhead the flowers, we do not want any energy wasted in the production of seeds. The plant should then be left to die back naturally. If grown in pots make sure the soil is kept evenly moist. When the foliage starts to yellow the plant has reached the end of its growing season, any disturbance before this will prematurely end the growing of the new bulb.
The bulbs are then effectively semi dormant until the return of cooler temperatures the following autumn. Good drainage is essential as bulbs will not do well standing in cold damp ground.
Bulbs grown in containers can now be lifted and stored somewhere warm and dry, ready for replanting in the autumn.
Lifting Bulbs
When you lift tulips, you will find a new bulb has developed flanking the old flower stem. It's flattened side results from growing against the flower stem as it develops. There will also be smaller offset bulblets that have grown from dormant buds on the basal plate of the mother bulb. Unless you are going to grow these on for several years they can be discarded.
Once lifted the bulbs should be cleaned of any soil and stored in nets until replanting in the autumn. A garden shed or garage is ideal. Any old petals or plant foliage should be cleared away and under no circumstances composted.
Our Bulbs