Our Shows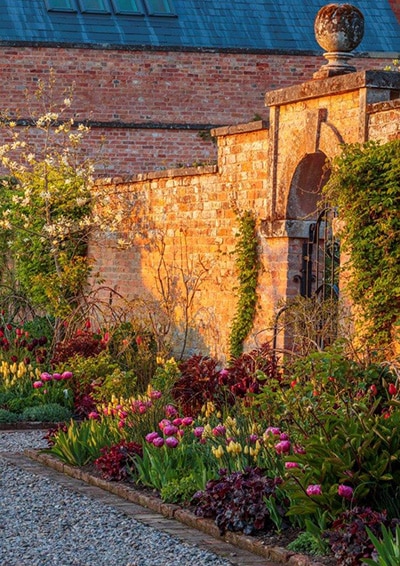 It was only in 2019 that the Tulip Festival at Morton Hall was founded as the Midlands Bloms Bulbs show. In only four years, and despite the pandemic, it has become a hugely popular event renowned throughout the area and beyond.
This is a unique collaboration between Bloms Bulbs, Morton Hall Gardens and the Royal Shakespeare Company which receives the admission proceeds as part of Morton Hall's long-standing support for the costume workshop.
Tulips at Morton Hall are planted in highly refined colour schemes in the formal gardens and in many elegant pot combinations to provide visitors with inspiration for their own plantings. Alongside the tulips, there is information about each variety and members of the Morton Hall gardening team are present to answer questions about tulip planting and care.
In addition to tulips in borders and pots, there is a stunning cut flower show hosted by Bloms with many more varieties and their expert advice at hand.
The colours and textures of the tulips are mirrored by a display of resplendent costumes from RSC productions which adds another festive element to the event.
Away from the tulip hubbub, visitors may stroll through Morton Hall's tranquil Japanese woodland garden and dramatic Rockery with their serene spring displays. There are also 3 acres of Parkland Meadow with naturalized bulb planting to be admired.
A large marquee on the East lawn provides space and shelter for more than 150 guests. A variety of delicious meals and snacks are served throughout the day.
To facilitate access to the gardens and provide visitors with the best possible experience, tickets are timed and must be pre-booked. Ticket sales commence at the end of September 2023.
Tulip Festival 2024
4 to 6 May, 10 am to 5 pm. Last entry at 3.30 pm. To book, visit the garden homepage www.mortonhallgardens.co.ukand click on the red banner which takes you through to the RSC booking site.